The Pearson Renegade 1967–1970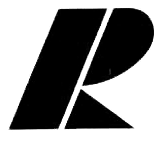 This Pearson design answers the call for a fin–keel racer with cruising accommodations to match — an exiting 27-footer.
The Hardware Hunter
We call the Renegade 27 the hardware hunter because of her ability to capture trophies in all kinds of weather from Long Island Sound to San Francisco Bay. She started winning within days after the first hull was delivered and shows no sign watsoever of decreasing her winning ways.
The Renegade is perfectly suited to those who are stepping up from a one-design class or a day sailer and are looking for all-around performance combined with comfortable cruising accommodations for five people.
She features the fin keel-spade rudder concept, a long waterline, firm bilges, flat deadrise and moderate displacement. The spade rudder is placed well aft for positive steering control and excellent maneuverability.
Her dinette arrangement provides a full galley, enclosed toilet room, and plenty of locker and stowage space. The beautifully appointed interior decor invites the scrutiny of the most discriminating.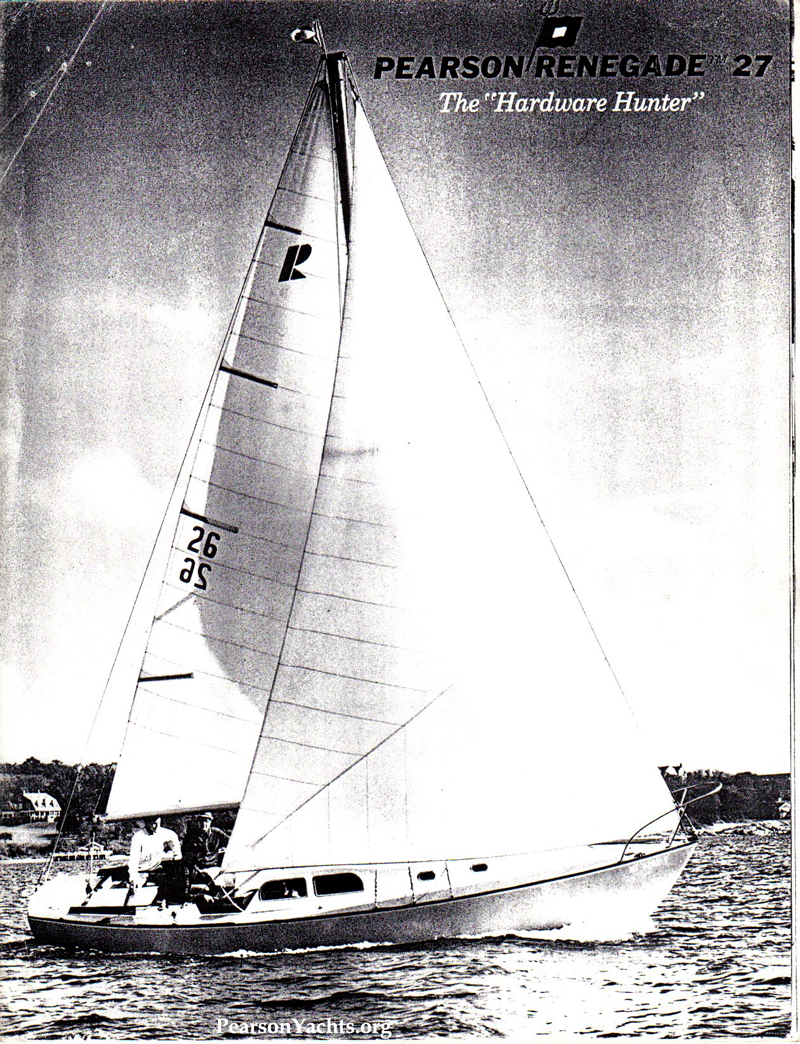 ---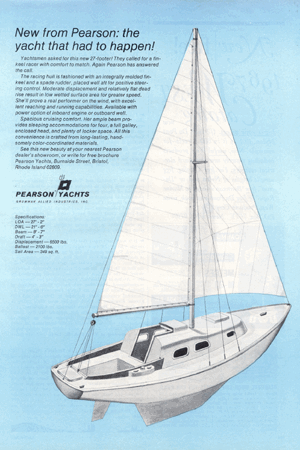 Production
The boat design by Bill Shaw was built by the American company, Pearson Yachts, at their Rhode Island, United States plant between 1967 and 1970. Although Pearson Yachts is no longer in business, 173 of these boats were completed during their years of production.
Said Shaw, Before we walked into that show (1967 New York Boat Show), I challenged our sales department to come up with 100 orders and they came back with 135. We knew we had a winner.
---
Design
Like each model Pearson before, the Renegade was designed to fill a specific void in the marketplace. It was Pearson's first boat to incorporate a split underbody, with a spade rudder and fin keel. The boat was beautifully balanced, nimble under sail, and extremely maneuverable under power (except in reverse; still, it was far more maneuverable when backing than full-keel designs of the time).
Before coming to Pearson, Shaw had worked for Sparkman & Stephens. At Pearson for 27 years, until the company closed in 1990, he not only was responsible for the design work, but also engineering. For 25 of those years, he also ran the company. Shaw does not claim credit for the split underbody concept, noting Bill Lapworth's runaway success on the West Coast with a similar underbody in his Cal designs, particularly the Cal 40.
The Renegade is a masthead rig with—as was typical in its day—a fairly low-aspect mainsail with a 28' luff and 12' 6" foot. The long boom, however, was a people-sweeper in a jibe, and several owners we talked to have shortened the mainsail and raised the boom not only for safety but to accommodate installation of dodgers and Biminis.
Most everything about the Renegade—mast, chainplates, standing rigging, turnbuckles and deck hardware—is, by today's standards and for a boat its size, oversized. The forestay and backstay, for example, are a hefty 7/32" and the shrouds (uppers plus forward and aft lowers) are 3/16".
Shaw told us, We designed the rig using a safety factor of three. First, we'd calculate the maximum load on a particular piece of rigging, then we'd triple that. Then we'd look for a size of wire rope that had that breaking strength. All attachments, such as the tangs on the mast and chainplates, were designed with a safety factor of four. It might sound like overkill, but we never knew the exact loads the boat would experience, so we tried to be conservative. It was also the way Rod and Olin [Stephens] designed boats, and they never had a single failure.
Performance - Comments we heard from owners were unanimous in their praise for the Renegade's performance: "Best boat my know-it-all sailing friends have ever sailed." "Turns on a dime." "Forgiving of mistakes, easy to maneuver." "Keeps up with bigger boats, tack for tack."
Bill Shaw said, What made the Renegade such a wonderful boat was its perfect balance between cruisability and its get-up-and-go. Its fin keel and spade rudder gave it beautiful sailing balance and tremendous maneuverability, enabling it not only to turn in its own length but beat circles around long-keel boats. Its split underbody also reduced the hull's wetted surface, which enhanced its performance in light air. And it was a big help in backing. Here, finally, was a boat that responded in reverse the way you hoped it would.
Specifications*
LOA (Overall Length)
27.2'
LWL (Waterline Length)
21.0'
Beam
8.6'
Draft
4.3'
Displacement
6,500 lbs
Ballast
2,100 lbs
Sail Area
349 sq ft
Mast Height (above D.W.L.)
37.0'
Cockpit Length
6' 4"
Auxillary Power
Optional Inboard
Foretriangle Area
173 sq ft
Mainsail Area
175 sq ft
I – Foretriangle Height
32.5'
J – Foretriangle Base
10.7'
P – Mainsail Hoist
28.0'
E – Mainsail Foot
12.5'
Technical Data
| | |
| --- | --- |
| Designer | Bill Shaw |
| Years Built | 1967 – 1970 (173) |
| Hull Speed | 6.14 kn |
| SA/D – Sail Area to Displacement | 16.0 |
| DLR or D/L – Displacement to Length Ratio | 313 |
| BR – Ballast Ratio | 32% |
| L/B – Length to Ballast | 3.16 |
| LWL/B – Waterline Length to Ballast | 2.44 |
| OR – Overhang Ratio | 23% |
| CSF – Capsize Screening Formula | 1.85 |
| MCR – Motion Comfort Ratio | 24.8 |
| M/F – Main to Foretriangle Ratio | 1.01 |
| PHRF – Performance Handicap Rating | 243 (average) |
| CCA | 22.6 |
---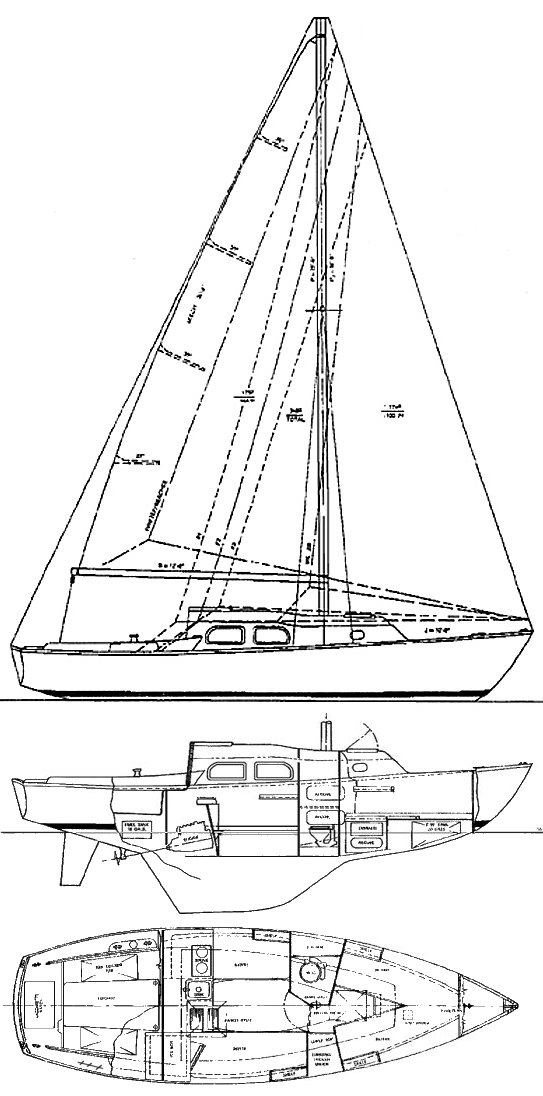 Boat Reviews and Resources
Practical Sailor (September 1998)
This late 70's racer/cruiser, designed by Bill Shaw, was Pearson's first boat with a split underbody. Though a bit small for family cruising, she sails smartly. More
Documents
PDF Brochure: The Hardware Hunter
JPG Line Drawing: Pearson Renegade
PearsonInfo
A wealth of information on Pearson sailboats by Dan Pfeiffer. More
---
Pearson Yachts Brochure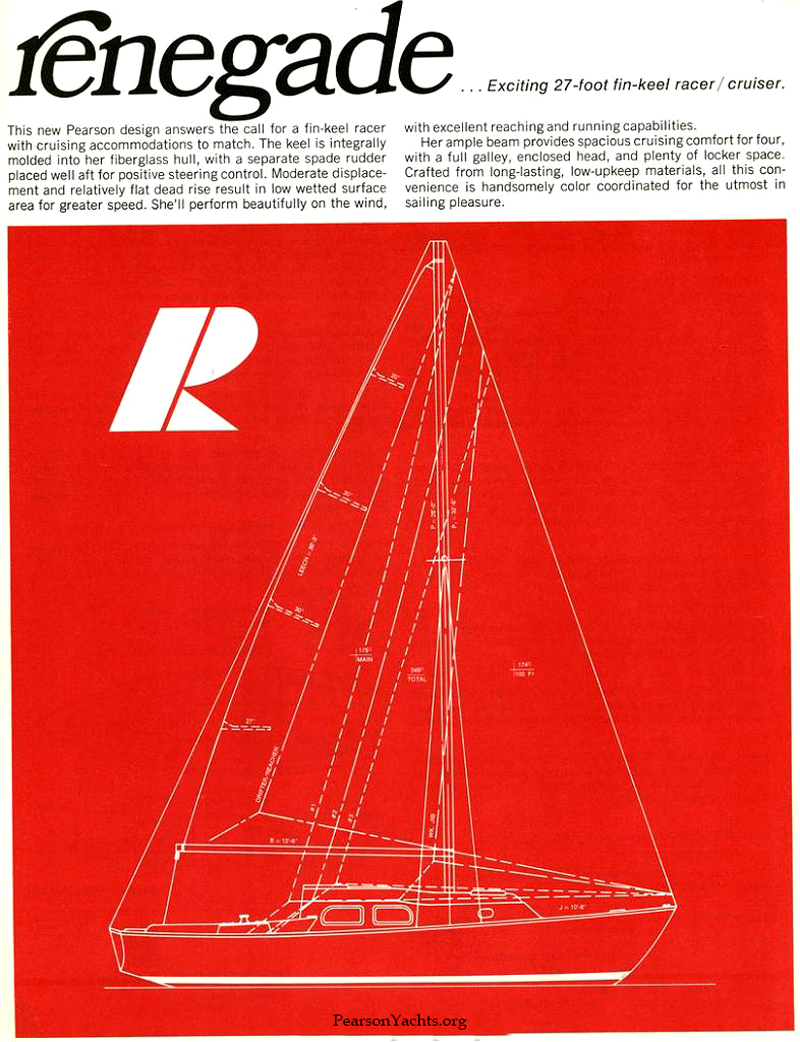 ---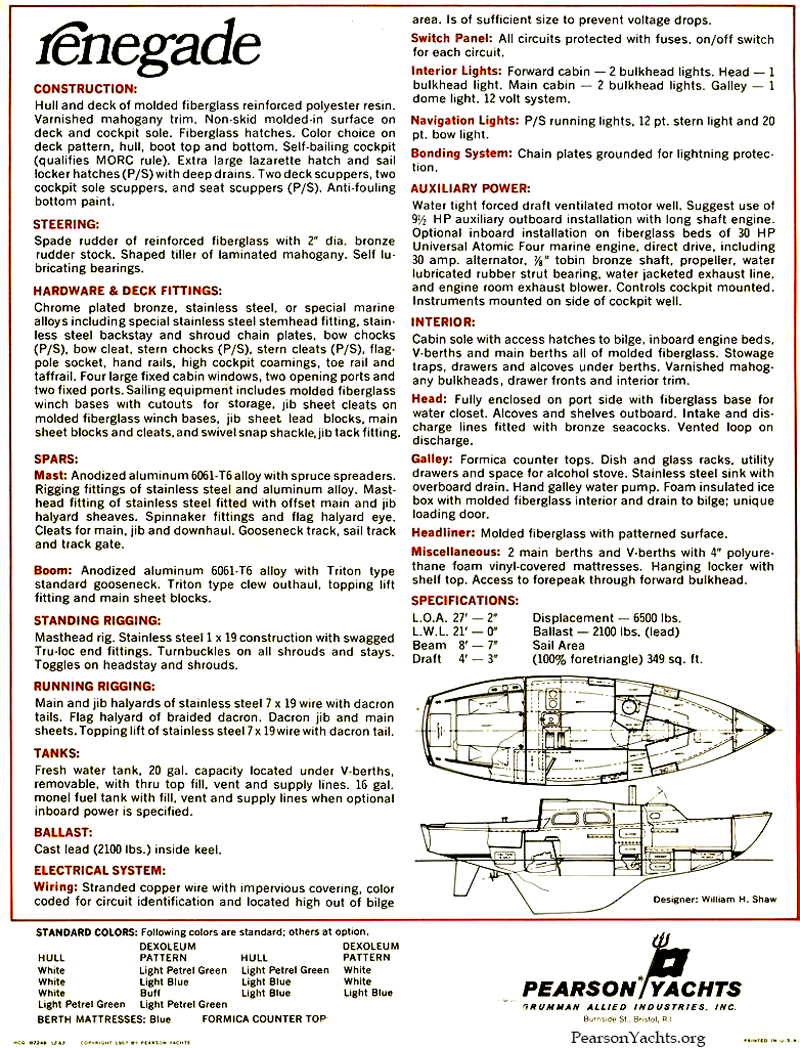 ---